How To Break A Fast Without Undoing All Of Your Hard Work, Packing The Weight Back On, And Having To Start All Over Again... Guaranteed!

Dear Friend:
I won't waste your time. I know you want a simple solution for how to break a fast without undoing all of your good work, and I can give you just that. And best of all, if you say yes today, you can get 'How to Break a Fast & Keep The Weight Off" it for my rock bottom introductory price of just $10.
Why Did I Write This Report?
I created this 'how to break a fast' Report because I've received dozens of questions from people frustrated by the fact that even though they lost weight during their fast, they found they put it all back on again (and sometimes even more) after they went back to normal eating.
I still vividly remember the first time I broke a fast. I ended up in the Emergency Ward of my local hospital, because the first thing I ate was a Cheeseburger. Not a good idea looking back on it, and most people probably wouldn't do the same thing. But nevertheless, breaking a fast is likely going to be the of the hardest battles you're going to face.
Click on the 'play' button to listen to a brief introduction by me. :-)
Introducing How To Break a Fast
And Keep The Weight Off
I just finished up a brand new Report called How To Break a Fast And Keep The Weight Off. Best of all, it's a digital PDF guide, so as soon as you sign up today you can retrieve it immediately. That means you can start benefiting from what you'll learn in just minutes from now!
This comprehensive report will take you through a 30-day schedule on how to break a fast correctly, so that you can learn to adopt healthier eating habits and keep the weight off for good.
This simple system (which includes specific diets and sample menus) is the one that helped me to overcome years of obesity and poor eating. I'm confident it can do the same for you, if you have the willingness to take action and follow some simple instructions.
In this easy to read 21 page guide you'll discover:
Why the hardest (and yet most important) part of fasting is what you do (or not do) once the fast is over

Why it is normal to gain 5 to 10 pounds the first month after a fast, and how to keep this natural weight gain from spiraling out of control

What to expect mentally and physically when you transition from fasting back to eating

How to correctly "prepare" to break your fast, and what that single moment in time represents for your life and your future

What "starvation mode" really means, and how to overcome your body's natural tendancy to 'store' fat cells instead of letting them melt away

Detailed instructions for ending a fast of any length so you won't blow all the great work you've done

Mental and emotional nuances to watch out for, so that you do not eat too much, too soon

A detailed 'Shopping List' of supplies that you will need to effectively break the fast

How the metabolism reacts during as well as after fasting, and why it's so critical that you follow some simple 'rules' to get the most consistant results

A day-by-day guide to what to eat and drink for the first 10 days (and what to avoid) so you can just follow along and stay on track with virtually zero effort

A long-term vision of what it will take to keep the weight off and what type of foods you will need to watch out for

And much more...!
I've personally seen so many people suffer needlessly because they didn't have this information, and I want to do my best to stop that from happening to you.
Finally, I'd really like you to become a customer of mine for life. What better way than to give you a terrific deal? When you get great results from what you learn in this Report, I'm guessing you will be much more likely to consider future products I plan on releasing.
A Great Bonus to Make this
Purchase a No-Brainer!
I know the easiest way to get you to take me up on this is to give you incredible value.
So to make sure you're getting at least ten times the value today, you'll also have access to a very nice bonus:
The MP3 Audio Recording Of This Program
This is the perfect companion to the How To Break a Fast And Keep The Weight Off Report. You can take this program, plug it into your iPod or MP3 player, and listen to it wherever you go.
In the recording, I add a number of personal comments and distinctions, that will help you to get much more out of the Report. So if you don't have the time to sit down and read right now, this will solve that problem for you.
Plus, You Get My Best Guarantee!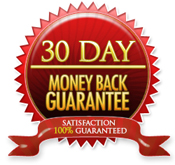 Get this program immediately. Read the Report through or listen to the MP3 audio.

If you don't immediately feel like you've gotten at least double your money's worth, then contact me right away and I'll return every penny of your purchase quietly and promptly.

Better still - Take a full 30 days to listen to, absorb and put into action the easy methods you'll discover in this program on your very next fast.

If you are unsatisfied for any reason, or no reason at all, just contact me and I'll still give you back every penny of your investment today.

You only stand to gain when you act immediately and get this simple system for only $10.

Yes! Please Give Me INSTANT
ACCESS To How To Break Your Fast And Keep The Weight Off

I Want To Download This Immediately
Before The Price Goes Up!

I understand I'll be downloading How to Break a Fast And Keep The Weight Off for a tiny one-time payment of just $10 when I act now!

- Robert Dave Johnston

P.S. Remember, this is an introductory offer, so the price is likely to increase at any time. So don't delay, grab your copy of How To Break Your Fast And Keep The Weight Off Today.

Remember, there is a 30 day money back guarantee. Can you afford to pass up on these secrets and be kicking yourself later for not taking action?



Get the results you want now!

Contact Us | Terms Of Use | Privacy Policy | Legal Disclaimer