One of the primary fasting colon cleansing methods used by most at-home enthusiasts is the Colema board.
However, if you do not have or cannot afford to purchase a Colema board, you can easily follow the directions here with any enema kit that you have at hand.
The Colema is awesome and I always recommend it if you are serious about long-term colon health. But anything that you have now is sufficient to get you started!
A Colema board, pictured above, is basically a padded board that can be linked to an open toilet with a chair. This gear turns your bathroom into a full-blown home colonic clinic - with all the benefits thereof, minus the perpetual expense.
If you are serious about fasting colon cleansing, then I highly highly recommend the Colema board system we are discussing in this page. Why? Because for an investment of several hundred dollars NOW, you can basically create a colon cleanse spa in your home and save tons of cash LATER.
I can tell you from personal experience that going to a colonic cleansing therapist regularly can rack up to hundreds upon hundreds very quickly. In addition, I have found it indispensable to get to know my body and assume absolute personal responsibility for its wellbeing. Fasting colon cleansing with the use of a colema board has been one of the keys that helps me achieve that responsibility.
Enemas & Colonics
The Colema board is different from a colonic in that the latter uses a tube (one-inch in diameter) that, in turn, is subdivided on the inside into a smaller 1/8th inch tube. Together the two tubes foster an "inflow/outflow" effect that is controlled by the colonic cleansing therapist.
The therapist inserts the tube about two inches into the rectum so water current can start breaking up the hardened feces and toxins that are adhered to the colon. When the colon becomes full it induces a bowel movement as water continues to flow in and out.
This goes on non stop for about an hour - depending on the type of colonic session that you purchase. I have gone to colonic clinics many times and the experience has always been pretty amazing.
At the beggining of my fasting colon cleansing and fasting for weight loss journey, the HUGE chunks of black, thick debris that came out of me were something out of a science fiction movie. You ever seen The Blog or The Thing? Well, never mind... I think you know what I'm trying to say.
You would be amazed at the waste that your body may discharge with a good cleanse! I was like: OMG, I was carrying that horrible filth inside of me all of this time?
Indeed, I was horrified at the sight of what my body discharged. But one thing is certain: Seeing that definitely increased my resolve to change my life and health completely and to abandon the destructive eating and lifestyle habits that had been with me for more than 20 years. I also make it a point to do a thorough at-home detox at the very least once.
One questions I am often asked is: What is the difference between a colonic and an enema? Contrary to a colonic's double tubing, an enema consists of only one main inflow tube. So, in simple terms, a colonic is when you have liquid flowing in and out of the rectum simulatenously.

An enema, on the other hand, can only handle either liquid going in or liquid coming out.This is the one that most resembles the Colema board system and is the one I recommend for your fasting cleansing program.
How The Colema Works
The Colema board, in my opinion, will yield you results very similar to a colonic (and at a lesser price) because of its intelligent design and very specific accessories to support it. Setting up is easy. You basically rest the board on a chair and allow the side with the opening to hang directly over the commode. Refer to the sketch above so you can see what I am talking about.
You then mix the liquid (most people use diluted lime water or coffee) in a five-gallon bucket that can be placed on top of a chair propped up on several phone books or preferably a stool, if you have it.
Five Gallon Bucket
The bucket should be slightly above you, with the enema tube inserted directly in the liquid, hanging down and connecting into the frontal portion of the Colema. This leaves about a two-inch piece of tube sticking out from the inside, which is the part one introduces in the rectum to feed the liquid into the colon.
What I personally like the most about the Colema is that one can evacuate and/or urinate at any time around the inflow, without interrupting the liquid current or fearing that feces will smear through the sides and swamp the floor. Yes, that concerned me a lot at first. Sometimes, especially when one starts using the Colema for the first time, the tolerance for water is very light and evacuation is constant.
Over time, however, you will be able to hold larger amounts of water in your colon which allows the liquid to penetrate and cleanse deeper into your bowels. You can go to Amazon and look over a very nice variety of Colema Boards. That is the one I have had for six years now. I highly recommended this product to support your fasting colon cleansing efforts. I would say that using a colema board regularly has made a profound difference in my overall well being and health.
I never realized that, even if we eat a clean diet, we are still exposed to countless toxins, all of which end up at some point embedded in our digestive system. Using a Colema Board at least once monthly is like the neighborhood's trash collection service. It comes around like clockwork and hauls all of the refuse away.
Music & Candles - No Date
The fasting colon cleansing Colema board also comes with the special tubing and a syringe which you can use to start a siphon. The tube has a clamp just like the one on an enema tube. This allows you to control the flow of liquid from the bucket into your colon.
You can keep most of your clothes on, if you wish. Put a towel on the toilet back for your feet to rest upon. Optionally, put on some meditative music. Now lie on your back on the board and just slide up to the lubricated tube until it is properly inserted. This does not have to be painful. With sufficient lubrication, insertion pain should be minimal to none.
But it is important that it be inserted at least two inches into the rectum so the colon receives the maximum amount of liquid from the bucket. You can use your hands for massage or use an optional Massage Machine. Massaging the abdomen vigorously and with plenty of patience will help to loosen stubborn fecal matter adhered to the walls of the colon.
Massage the liver area as well. When I say vigorously, I am not saying violently. Be firm but cautious.
Massaging The Abdomen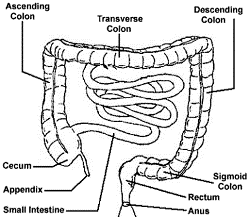 Set up the Colema so you will be comfortable for about an hour, but to not be in a hurry. Shut off your telephone. Interruptions in the middle of the cleansing are counterproductive. You do not want to have to get up while your colon is filled with liquid and have an accident all over your floor. Trust me.
Remember, your fasting colon cleansing program is helping you to get to know your body better. Take your time and learn how to listen. The massaging part is very important because it stimulates the colon and loosens debris stuck to its walls. Open the hose clamp gradually until the liquid starts to feel uncomfortable in your belly. Then close the clamp and massage different portions of your lower abdomen.
Hold in the water for as long as you can, without excessively forcing yourself. The liver portion of the abdomen is one that usually holds substantial toxins. I recall the first time I vigorously massaged that area of my stomach while on one of my initial fasting colon cleansing efforts. The explosion was severe and a substantial amount of waste came out that previously had stubbornly clung to my colon.
Persistence
That is when I realized that just because nothing is coming out right away, does not mean that I am done or that there is no waste to cleanse. Easy does it. You will be surprised with patience and persistence the intensity of the cleansing that this Colema board can help you achieve. It is truly amazing. If you feel you can open the clamp again, do so until it starts to feel uncomfortable again.
Then close it and continue the massaging process. Sometimes the explosion of toxic fecal matter is immediate. Other times it may take a little longer. Do not give up. Continue your water or juice fasting program, continue to drink your cleansing solution and be patient.
The Colema & Fasting
If you are either juice or water fasting, try to get on the Colema at least every other day. If you are not drinking any cleansing laxative solution, drink large amounts of water before you you start with the board. Sometimes it takes a half hour for the entire 5 gallons to come into your colon and be expelled. Other times it may take longer, especially with stubborn fecal matter stuck to your colon. Take time and maximize the result of your fasting colon cleansing efforts.
Return from Fasting Colon Cleansing Tips and Kits to Fasting and Cleansing MAIN.