Welcome to the Lemonade Detox Diet page. This is page 4 of 4 of this Master Cleanser series. In these articles, we discuss "what" the lemonade diet is AND "how" to carry it out and break it properly. Here are parts ONE - TWO and THREE in case you haven't read them. If at any time you have a question about this topic that is not answered in these articles, please Contact Us.
In this page we move forward with instructions on how to properly break the lemonade detox diet. This is where many fall off the wagon. The NUMBER ONE reason why most people fail at fasting is because they break the fast inappropriately and, consequently, end up relapsing into destructive eating. Sometimes this happens the very same day the fast is broken. The guilt and shame can be immense. So we are going to be meticulous and follow very specific instructions, ok? When you have time, you can also visit the breaking a fast page for a general discussion on this topic. Here, our focus is breaking a fast as it relates to the lemonade detox diet. Alright!
If you already have all the information you need to get started, you can visit The Raw Food Site and purchase a kit with all of the lemonade detox diet ingredients. These kits are great and come with everything except the lemons! :-) Also, don't forget to visit our Fasting Shop for more cleansing kits, detox & anti-aging supplements and a hand-picked selection of juicers and books on fasting, colon health and detoxification. Great to have you with us!
From Fast to Feast?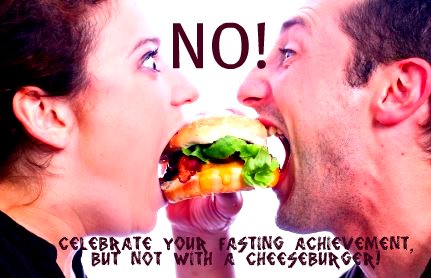 As I said, one of the biggest mistakes you can make is to "celebrate" the conclusion of the fasting and cleansing process with a feast. Eating too much after the digestive system has slowed down causes great discomfort and it may even induce serious illness. It is foolhardy and downright dangerous. DON'T DO IT! Follow these steps carefully to break the lemonade detox diet. Don't make up your own way. And, I repeat: DO NOT OVEREAT PLEEEEEASE!
Go slow. Tread carefully and don't be in a hurry. If you made reservations at an Italian restaurant for tomorrow - CANCEL IT! Your digestive system, to a great extent, has been in a state of hibernation. Do NOT drop a bomb. The lighter you eat and the slower this process is - the better (and more lasting) your weight loss and health results will be. After all, it is your intention to keep the benefits you received for the long-term - right?
VEGETARIANS: The FIRST TWO DAYS, you are to drink only orange or grapefruit juice diluted with water - to your heart's content. These juices will prepare the digestive system to properly re-assimilate regular food after the lemonade detox diet. On the THIRD DAY, drink orange juice in the morning and have some raw fruit for lunch. Apples and pears are a good combination. Do NOT eat more than two of each. In fact, one apple and one pear is more than enough at this phase. You can add raw vegetables for the evening meal. I usually have broccoli, carrots and cauliflower. Make sure to drink at least half-a-gallon of water daily. Give the body as much help as possible.
By the FOURTH DAY you will then be ready to eat your customary vegetarian diet. If you are not a vegetarian or raw food eater and would like to consider the adoption of this lifestyle, check out the Fruit Fasting page. To be sure, NOW is the time to consider "totally" changing your eating habits for the better - PERMANENTLY.
NON-VEGETARIANS: The FIRST DAY after the lemonade detox diet, drink ONLY orange juice - as much as desired. As I said before, I recommend that you dilute it with water. Watered-down juice is processed by the digestive system with greater ease. It is the safest and most thorough way to break a fast, I have found.
On the SECOND DAY, continue to drink orange juice, this time with a little less water. For your evening meal you can have vegetable soup. NOTE: I'm NOT talking about "canned" soup! Those have way too much sodium. The soup I'm refering to is HOME MADE and will require you to purchase and cut a number of vegetables and then boil them in a large pot. It is imperative that you visit the supermarket BEFORE starting the lemonade detox diet.
Finding oneself in a food store while fasting or right-after a fast is dangerous and highly discouraged. It is very easy to be led astray by hunger to the pastry section! This is an occassion meant for breakthrough and self-satisfaction, NOT guilt and shame brought-on by an unplanned and devastating binge. Ok: Now let's take a look at how to make this home-made soup.
Vegetable Soup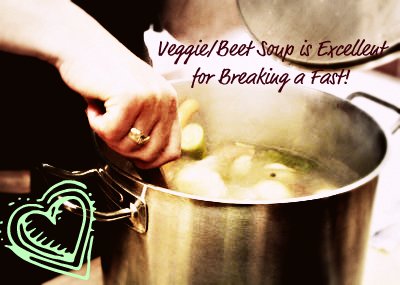 When I first prepared the soup, the house was filled with an exquisite aroma. My son loved this soup. Since then, it is a must when I go and visit him. It has become a family tradition. Make sure you have a medium- to-large pot where you can mix enough soup to last you at least two days.
Cut the vegetables in medium-sized pieces. I use potatoes, malanga, green plantains, celery, carrots, onions, green peppers, squash and broccoli, among others. VERY IMPORTANT: Please make sure that you wash all vegetables THOROUGHLY! If you can afford to purchase organic, so much the better. If not, then remember: wash, wash, wash! :-)
Once you are done peeling and slicing the beets and veggies, put them in the pot and fill it with water until all of the ingredients are submerged. Do not fill it all the way to the top. Leave at least one-fourth available so the water has room to rise as it boils. For taste, you can add a splash of olive oil, Vegetable Low-Sodium Broth Powder, fresh cilantro, eight cloves of garlic and a tablespoon of Himalayan Crystal Salt.
Make sure the cilantro is tied so you can take it out if you don't want the tiny green leaves floating in the soup. The THIRD DAY after the lemonade detox diet, continue with the orange juice in the morning and eat more of the soup for lunch. For dinner, you can have steamed vegetables, salads, fruits and rice. I prefer Basmati Aromatic Rice because it is very tender and easy to digest. NO MEAT YET!
ProBiotics
A very important part of breaking the lemonade detox diet is to start taking Probiotics Capsules to help replenish the "good" bacteria in your stomach that may have been lost along with the bad while fasting. Take two in the morning and two in the afternoon starting THE DAY that you start to break the fast. Probiotics also help fight off any bad bacteria or yeast accumulated in your stomach. These include the Candida Albicans fungus which causes an extremely destructive condition called Candidiasis.
Fungal infections (and all infections for that matter) are highly opportunistic. Candida is a fungus that, when out of control, pollutes the bloodstream and causes the immune system to weaken. This all happens very quickly and the symptoms are often severe. In my case, Candida caused depression, violent allergies and constipation. Sooooooo, now is NOT the time to lower our guard or take half-measures. My message is this: TAKE THE PROBIOTICS!
If you are having trouble with yeast, or even as added protection, I highly recommend the CandiGone Candida-Cleansing Program. This product wiped out my severe Candida infection. It works great and, better yet, it is inexpensive.
At the Crossroads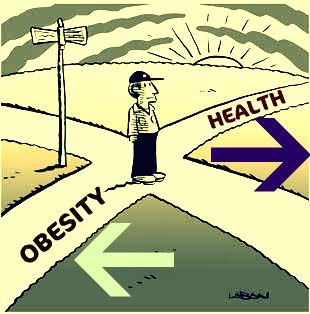 The FOURTH DAY after you break the lemonade detox diet, you can resume normal eating... sort of. I strongly encourage you to continue eating as light as possible and abstain from red meat for at least another two months. Stick to lean poultry and fish.
Eating as light as possible for as long as possible will help you to break life-long patterns of destructive eating. These are the patterns that cause so many to gain back all the weight they lose while fasting and dieting. From bitter experience I repeat: CONTINUE TO EAT AS LIGHT AS POSSIBLE FOR AS LONG AS POSSIBLE!
Keep in mind that you are now at a crossroads: You must change eating habits if you want the detoxification and weight loss benefits to remain. Or, you can return to your old habits and reap the physical and emotional consequences. The period "after the fast" is where most people run into trouble. No lemonade detox diet or any other regimen is a magic cure.
There are no "fix-all" pills, diets or cures. Sorry... they just don't exist. What we DO have, however, is the ability to make a firm commitment with ourselves about the quality of lives we wish to lead. It has to come to the point where being lean, healthy and free of junk food becomes more pleasurable and desireable than sticking that cheeseburger or pizza in our mouths.
Are you there yet? If you are, welcome! If not, what is keeping you? Life is too short! There is a saying that helped me to change my entire perspective on food and eating. It goes: NOTHING TASTES AS GOOD AS THIN FEELS. It's true! God bless you and keep on keeping on! :-)
If you need more information on this topic, visit our random notes page
HERE.


Sonia Noemi
Fitness Through Fasting
Nutritional Consultant / Skin-Care Professional
Contributor:The Anti Prevention Nation Ezine &
FastingOlogy 9-Month Membership Course.