Fasting For Weight Loss Blog: Fasting For Weight Loss Blog. Stay Up To Date with Fasting Forum Posts and New Pages Added to Fitness Through Fasting.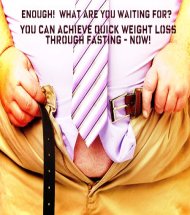 Fasting can put you on the pathway to quick weight loss like nothing else on the face of this earth. If you are more than 50 pounds overweight, then I strongly encourage you to consider fasting as a means of ridding your body of dangerous pounds fast. I would implore you to set aside everything else going in in your life and focus on start fasting TODAY for at least 14 days to burn a good 30 harmful pounds. But even if you are only 10-to-20 pounds overweight, fasting can take you there quick while also detoxifying your body.
Fasting for as little as SEVEN days can take as much as TWENTY pounds off your body and reduce the risk of chronic disease. Then you can work at staying free of junk and adopting permanent eating-habit changes. The equation I am presenting is simple and to-the-point: Get rid of excess weight quickly through fasting, THEN make a commitment to yourself and learn how to eat in healthy rather than destructive ways. In my opinion, there is nothing more powerful than fasting to lose weight fast and improve physical, mental and spiritual health.
I am giving you the formula on a silver platter basically. I have tried it myself for years and know that it works. All you have to do is MAKE UP YOUR MIND and take action. If you have tried many diets and have failed, it is likely that your body needs some time WITHOUT food so it can heal. It's like the cigarette smoker. As long as this person keeps smoking, he or she will never be free of the addiction, right? Well, sometimes it is like that with food. If you have eaten poorly for a long time, your body is in many ways "addicted" and needs to withdraw and cleanse. Water and juice fasting are powerful and quick ways to accomplish this.
And, as a bonus, you get to lose massive amounts of weight in a short period of time. What other motivation could you possibly need? Look, it's about giving your digestive system time to rest. When you work a long week ... are you tired? Do you want to work the weekend also? Or do you want to rest? Well, imagine how your body feels. Day in, day out ... over and over and over having to digest all of the trash that we eat. And it has to do it 24/7 - WITHOUT REST OR CONSIDERATION. If an employer treated us that way, we'd probably go on strike!



:-) Food for though... now to the posts!
---
Jun 09, 2018
Fasting for Weight Loss & Colon, Kidney & Liver Detox Can Save Ur Life
Fasting for weight loss and regularly detoxifying the colon, kidneys, blood and liver can burn fat quickly, reverse potential disease, rejuvenate you and, literally, give you a brand new life. My journey to hell & back & how fasting & detox helped me dodge certain death.
Continue reading "Fasting for Weight Loss & Colon, Kidney & Liver Detox Can Save Ur Life"
---